Lineman Drills
Lovell Head Coach Jeny Gardner works with her line crew during a weekday practice before their Homecoming game.
Longboard Shadows
Climbing Polecat Bench near Powell, Wyoming for a 1-mile-plus run.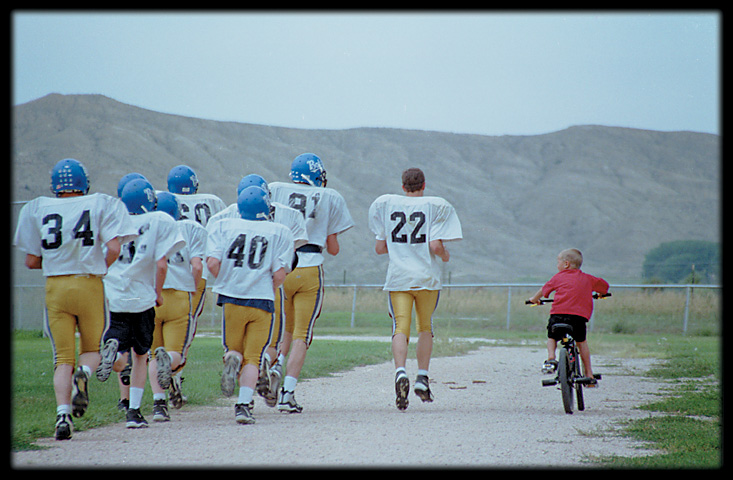 Summer Practice Begins
Along with the coach's son, the 2002 Belfry Bats prepare for their Montana Class C six-man football season. The upstart program qualified for the playoffs that year.
Dissidence
Wash-up following the student campaign for the literary/art magazine.
Cleveland
Heading for the Quicken Loans Arena for a Cavaliers' basketball game.
Bearing Down
A brewing storm over Interstate 90 in South Dakota.
DB Lunchtray
On the highway that climbs Polecat Bench near Powell, Wyoming
Portland Highrise
Apartments in Portland, Oregon.
Basin Sunset
Between Cody and Meeteetse, Wyoming in the Big Horn Basin.
Big Horn Badlands
Along the eastern base of the Big Horn Mountains near Lovell, Wyoming.
Homecoming Committee
Ready for the big homecoming six-man football game at Northern Cheyenne in Busby, Montana.
Tree Amongst Trees
Along the roadside of the Boardman Tree Farm in Eastern Oregon.
Terra Firma Photography
Other photographic works